Toshiyuki Toyofuku, Senior General Manager at CCS Inc., explains the benefits of OLED lighting for machine vision systems
To start, could you please tell us a little bit about CCS and your business offerings?
Before 1970, inspection was done by human vision. Companies eventually adopted cameras, using machine vision for automated inspection. Lighting is essential for cameras to see what it is inspecting.
We started [CCS] in 1993, and we have primarily offered LED lighting for inspection purposes. In total, we have 1,300 types of "standard products", but our custom offerings include over 10,000 options to meet the customer's request.
OLED [lighting] is one of our new types of lighting methods, as well as laser and other specialized types of LEDs like UV.
How does CCS help clients choose the ideal light source for their project?
Our business is not just manufacturing and selling lights. We listen to the customer's needs, challenges, and imaging conditions for an application to recommend the best lighting for an imaging system, so it can repeatedly produce a reliable image for the software to analyze. Then in our testing rooms, customers can freely bring or send us their workpiece to determine the most suitable cameras, lights, and lenses for their application.
You said you're starting to implement some different and new lighting technologies, like OLED. Could you tell me a little bit about your OLED lighting offerings?
For four years, I have been working with OLEDWorks to develop OLED lighting solutions suited to machine vision. We launched the OLED panel light in February/March 2020 in two colors and three sizes, and the lights are only 3mm thick.
In machine vision, it is essential for lights to have enough brightness, or else the image will not be clear enough to show the defects. The OLED panels made by OLEDWorks have higher radiance (brightness) than other manufacturers' thanks to the tandem structure. Even if the object is moving, the camera can clearly image it with our OLED lights.
We also developed a useful feature for our OLED lights called Lifetime Prediction Technology. It will estimate the remaining time before a light needs to be replaced, so manufacturers can perform system maintenance more efficiently.
What was it about OLED lighting that excited you and made you interested in adding it to the CCS portfolio?
One advantage of OLEDs is that they are very thin and lightweight. Even our thinnest LED lights are about twice as thick. A compact design can be crucial for machine builders when they need to install a light in limited space or inside a machine.
The second benefit of OLEDs is the uniformity. High uniformity can increase the accuracy of the inspection by eliminating shadows and providing even illumination for the camera. When the uniformity is poor, some parts of the image may be too bright or dark, resulting in missed defects.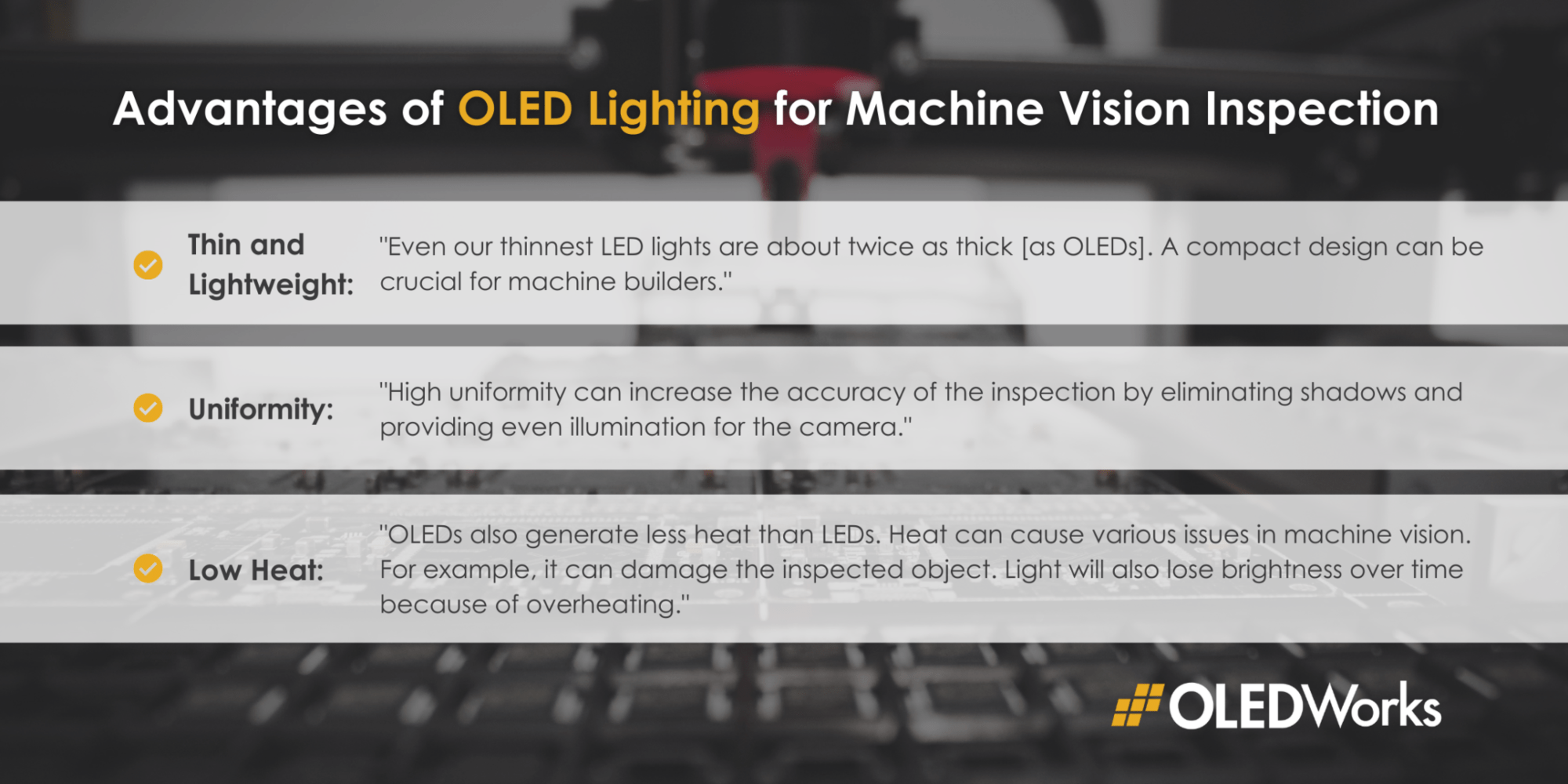 OLEDs also generate less heat than LEDs. Heat can cause various issues in machine vision. For example, it can damage the inspected object. Light will also lose brightness over time because of overheating. Therefore, it is important to reduce the amount of heat in the inspection as much as possible.
The bendable feature of OLED technology also has potential. An inspection system could be installed on a production line even where there are turns.
LEDs and OLEDs will have different products or markets that they are better suited for with their unique set of advantages. What would you say are some of the markets or products that might be particularly good for OLED lighting use during inspection?
One example where OLED lighting has potential is the pharmaceutical/medical inspection market. Minimizing heat is important to prevent product degradation. The OLED lights are suited to backlighting inspections such as measuring liquid level in a bottle.
—
CCS Inc. is the leading manufacturer of LED lighting for machine vision and is the key to success for machine vision applications. As the world leader in machine vision lighting, we have the technological knowledge and capabilities to fully support your lighting needs for your machine vision applications. OLEDWorks collaborates with CCS to develop custom OLED lighting panels for their machine vision inspection portfolio.