Through the OLEDWorks Channel Partner Program, Archilume will leverage OLED light technology to add luminaires to its revolutionary lighting collection.
ROCHESTER, NY – OLEDWorks, the leading manufacturer of OLED lighting technology, announces Archilume as the newest Partner in their Channel Partner Program, which grants luminaire manufacturers expanded access to OLED technology, engineering mindshare, and marketing and sales advocacy.
Archilume's glare-free decorative luminaires revolutionize the use of innovative lighting technologies. Archilume's unassuming simplicity masks a design vision that transforms energy-efficient LED lighting into sleek, statement-making luminaires. The lighting collections include pendants, chandeliers, wall sconces and customized configurations to create impactful feature lighting installations.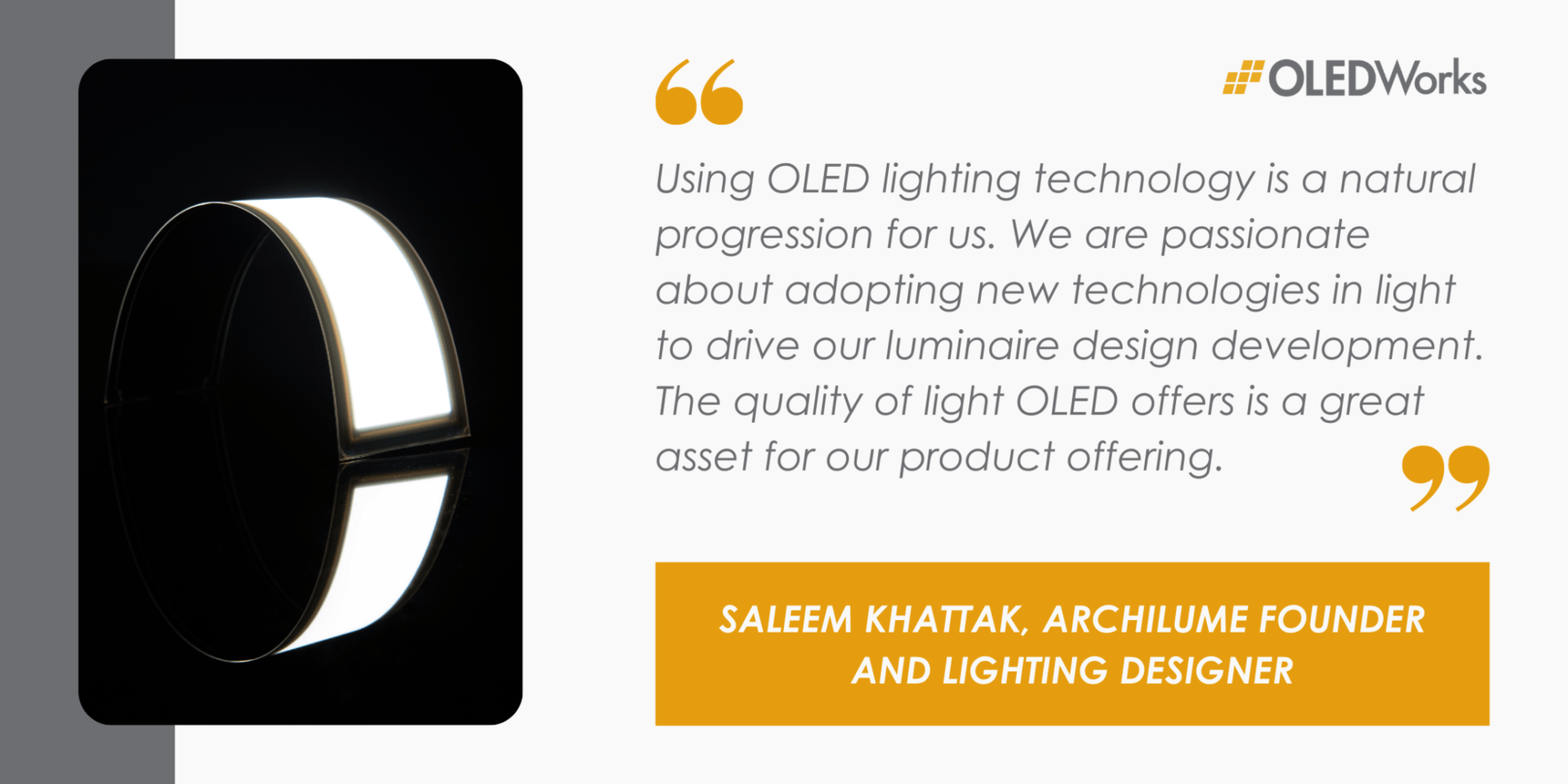 "Using OLED lighting technology is a natural progression for us. We are passionate about adopting new technologies in light to drive our luminaire design development. The quality of light OLED offers is a great asset for our product offering." says Archilume founder and lighting designer, Saleem Khattak.
"OLED light technology provides comfortable, uniform illumination," says John Rubens, VP of Customer Success at OLEDWorks. "We're excited to see more OLED designs offered in the market that are geared towards residential applications and we believe the new OLED designs will complement Archilume's existing portfolio nicely."
Archilume is participating in CLOSEUP by ICFF + WantedDesign Manhattan May 17-18, 2021. A virtual trade event: Onstage and online, broadcast from New York where they will launch their OLED portfolio.
About OLEDWorks
OLEDWorks is a global leader in the development and production of innovative organic light-emitting diode (OLED) light technology. By producing the world's best performing OLED panels and combining rapid product innovation, OLEDWorks simplifies and enriches lighting solutions in general lighting, automotive, and microdisplay applications. OLED light engines enhance the well-being of our world and its inhabitants.
About Archilume
Archilume is a decorative lighting design studio manufacturer that harnesses energy-efficient LED lighting technologies to create sleek glare-free luminaires in sculptural forms for interiors. Founded by industrial designer Saleem Khattak, Archilume offers pendants, wall sconces, and feature chandeliers in a variety of configurations in addition to custom design for commercial and residential projects. Archilume's mission is to evolve with the ever-changing lighting industry to create lighting products that inspire.