"It's completely ready, we have no complaints, it works, and we wish all our components would be as reliable as OLEDs." – Stephan Berlitz, Head of Development Light/Vision, Audi AG
Last week, the OLEDWorks team traveled to Darmstadt to exhibit at the International Symposium on Automotive Lighting (ISAL). The biennial event was originally planned for 2021 and was rescheduled to April 4-6, 2022, due to COVID-19 restrictions. We were thrilled to present exciting new OLED lighting technologies alongside Audi, who presented complete part models of automotive OLED lighting capabilities inside our booth.
OLEDWorks Announces it is Supplier for the Updated Audi A8
To kick off our presence at ISAL this year, OLEDWorks announced that it is the supplier of the digital OLED tail lights found in the updated Audi A8. David DeJoy, OLEDWorks CEO, said "It's incredibly rewarding to see the product on the road and we're looking forward to our continued partnership for future vehicles."
The possibilities that digital OLED technology can offer for automotive applications are extensive, and we expect to see more companies adopt the technology soon.
2022 Audi A8, featuring digital OLED tail lights with OLEDWorks panels (Video courtesy of Audi Media Center)
Most Advanced OLED Lighting Technology Featured in OLEDWorks Booth
In our booth, we featured the latest OLED lighting technology for automotive applications. Our rigid demonstrator showcased panels with up to 600 segments in lit dimensions of 56mm x 203mm, as well as segmented amber panels. We also demonstrated a bendable automotive panel that can bend up to 10 cm and includes 14 individually addressable segments.
Animation demonstration of rigid automotive OLED panels
OLEDWorks rigid demonstrator animation
Close-up animation of OLEDWorks automotive panel
Audi also included two complete part models inside our booth. The A6 e-tron concept showcased the complete rear of the electric concept car that was revealed last year. The A8 OLED tail lamp showcases the entire rear of the 2022 A8, which includes OLEDWorks' OLED lighting panels.
Digital OLED animation in the Audi A6 e-tron concept
Digital OLED animation in the Audi A8 tail lamp
Experts Answered Automotive Lighting Questions
Many of the 400 attendees at this year's conference quickly flocked to our booth to see all the incredible OLED lighting technology and speak with experts from OLEDWorks and Audi. Over the two days of the event, we were able to answer questions and discuss automotive applications of OLED lighting at our booth and in our private meeting room.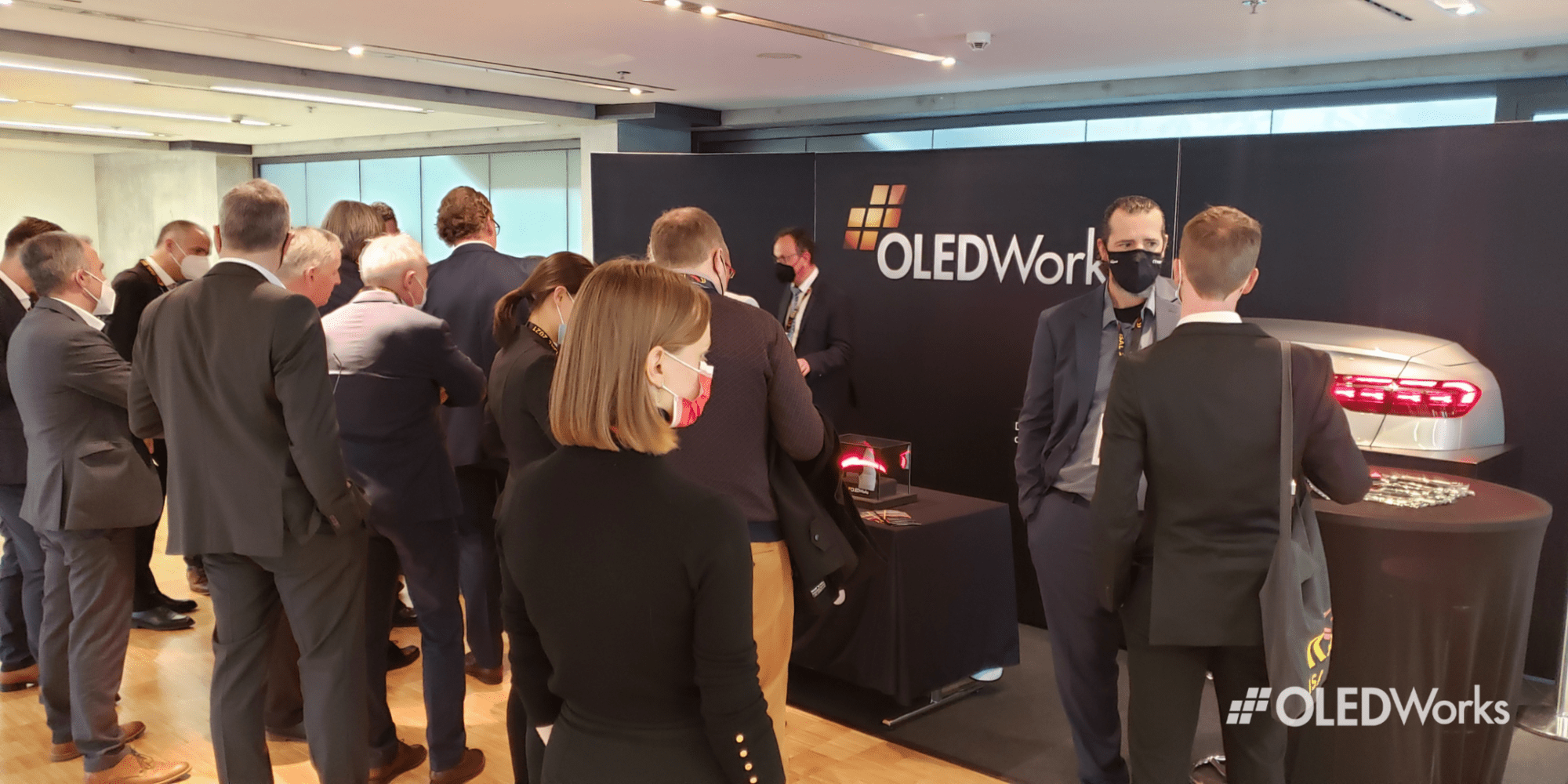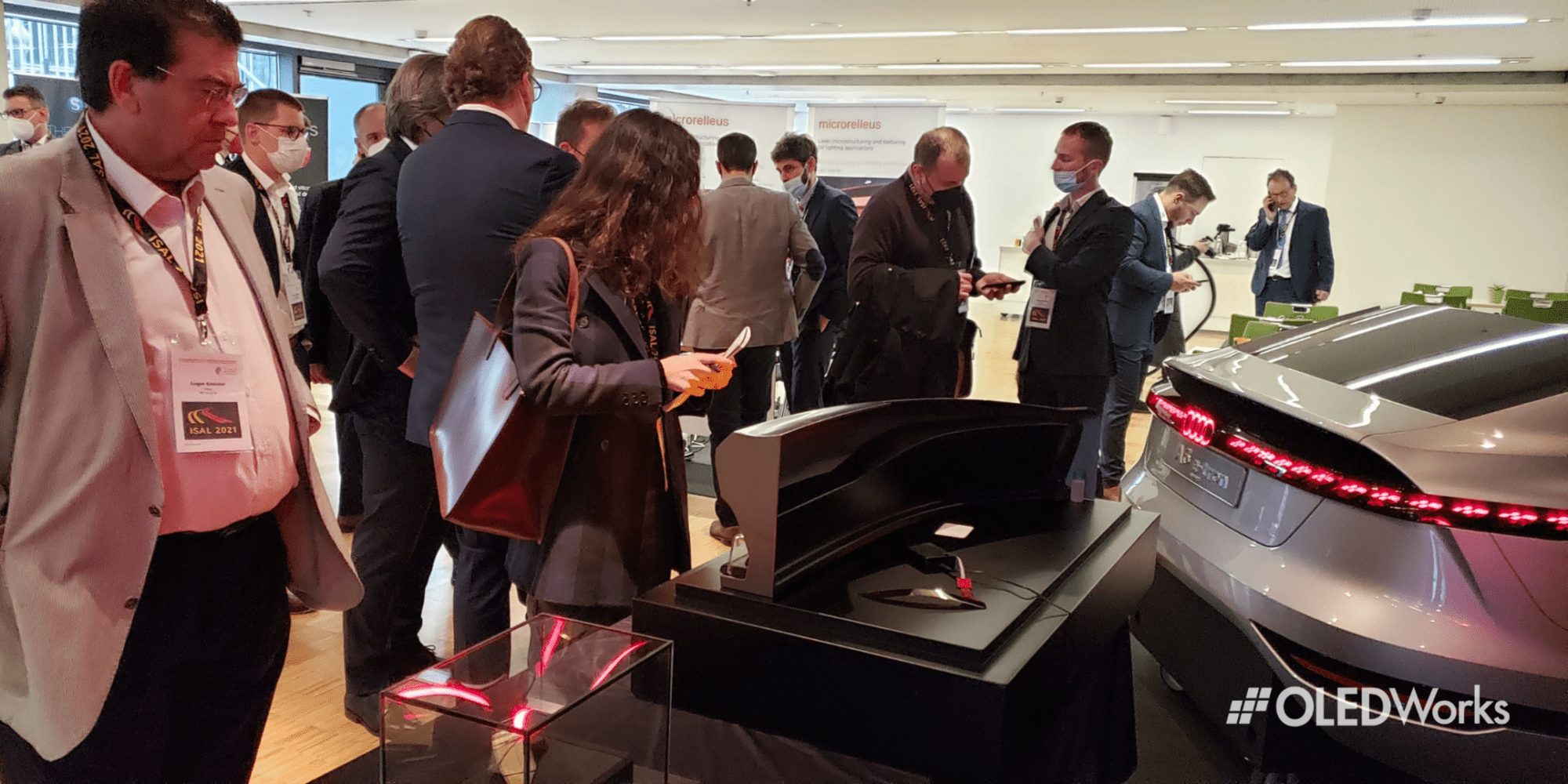 While in our booth, the Audi team also took some time to answer questions about OLED lighting.
OLEDWorks Wins Social Media Award for Second Year
As the event came to a close on Wednesday, OLEDWorks was presented with the award for best social media coverage of the event for the second year in a row. Thank you, ISAL, for this award and for a wonderful event! We look forward to ISAL 2023 to share our latest technology and innovation with the automotive industry.
OLEDWorks booth at ISAL