Organic Light Emitting Diode ("OLED") technology was invented in Rochester, New York, in 1987, by world leading researchers at Eastman Kodak. When hard times hit Kodak, and technology portfolios were being sold to the highest bidders, several members of the original OLED research team ensured that the technology would continue to thrive in the U.S. by founding OLEDWorks in 2010.
Maintaining its Rochester headquarters, OLEDWorks has expanded globally to become the world's premier OLED lighting technology manufacturer, by focusing on the three P's: People, Product and Production. A unique combination of globally renowned technical experts, rapid technology development and innovation, and best-in-class high volume manufacturing, results in an OLED lighting product line with unrivaled performance.
People
OLEDWorks was founded by two OLED technical experts from Kodak, Dr. Michael Boroson and Dr. John Hamer, and CEO David DeJoy, an experienced entrepreneur and business leader in Rochester with a proven track record of leading companies through start-up and into profitability. Nine additional experts from Kodak joined OLEDWorks to form a small but determined team who possessed decades of OLED research, development, and manufacturing experience and who had generated hundreds of patents in OLED technology, ensuring the technology would continue to develop after Kodak dismantled the OLED business unit.
David DeJoy was tasked with building and leading a team of innovative pioneers and managing investor relations and strategic business decisions. For the first four years of the company, OLEDWorks dedicated itself to R&D efforts as it slowly grew its team of technical and business experts.
In April of 2015, OLEDWorks acquired the Philips OLED division along with their intellectual property, state-of-the-art production facility in Aachen, Germany, and a core team of OLED engineers, business experts, and technicians. This acquisition catapulted OLEDWorks production capabilities and brought together the expertise and entrepreneurial spirit of the Rochester-based team with the technical precision and manufacturing experience of the German team.
Since then, OLEDWorks has continued to expand its team of experts who are dedicated to the advancement of this company and its technology. Our engineers have hundreds of patents for OLED innovations, and members of our leadership team have successfully managed firms ranging from seed-series startups to internationally traded corporations.
Through the expertise, dedication, and spirit of our team, our people continue to propel OLEDWorks into the future of OLED lighting.
Products
Shortly after the Philips acquisition, OLEDWorks expanded its research and development to include automotive OLED lighting, a transition that would require much more rigorous technology performance and stringent reliability standards and testing. It was a daring move that marked the beginning of OLEDWorks' entry into commercialized automotive lighting.
By 2021, OLEDWorks had announced its first lighting product on the road, the Audi A8. This was the first commercial vehicle to offer OLED lighting as a standard option and proved the reliability and performance of OLEDWorks products. Today, OLEDWorks manufactures the thinnest and brightest OLED lighting on the road and continues to expand its automotive offerings through increased brightness, higher segment counts, expanded color options, and bendable profiles.

Example of dynamic animations capable with OLEDWorks lighting technology
As a must within the automotive industry, OLEDWorks products boast superior robustness and lifetime. OLEDWorks technology is designed to last the lifetime of the vehicle and has passed strict reliability tests like the AEC-Q-102 standards. With thousands of hours of testing, our products can withstand the high heat, humidity, shock, and vibration that are typically encountered in automotive applications.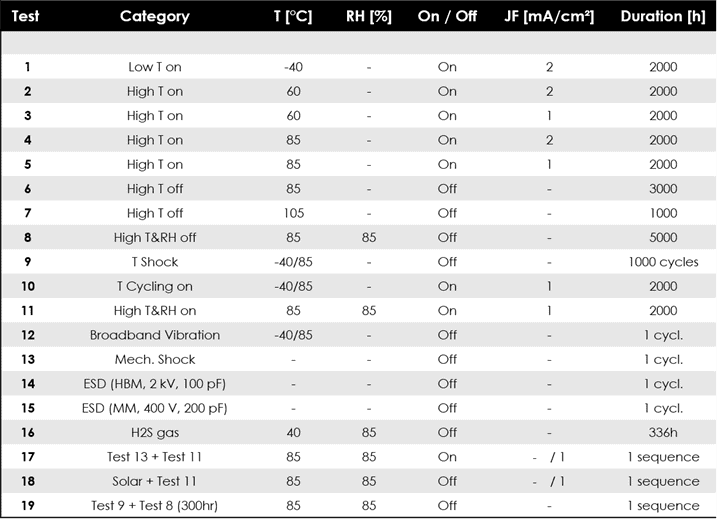 Example of automotive OLED testing requirements
Along with the expansion into automotive OLED lighting, the OLEDWorks management team continues to develop strategic partnerships and areas of diversification for OLEDWorks' technology. This has most recently focused on high brightness microdisplay and direct-view embedded display offerings, but our team is always looking for new opportunities for partnerships and applications that benefit from our core high brightness multi-stack OLED technology and our high-quality, high-volume manufacturing competencies.
Production
When you think of superior manufacturing, precision, and efficiency, German engineering is what comes to mind, with good reason. The OLEDWorks' manufacturing facility in Aachen, Germany, produces the top performing OLED lighting products currently available in the world. With the state-of-the-art high-volume production line, OLEDWorks takes great pride in this prestigious facility and has built a reputation of quality and robustness that applies to every product that we deliver.
OLEDWorks is committed to quality. The OLEDWorks manufacturing facility is IATF 16949 and ISO 9001, 14001, 45001 certified with full traceability via a factory MES system. Our commitment to quality is seen not only in achieving and maintaining these certifications but also in our products passing the most stringent reliability testing protocols. The strongest evidence of our commitment to quality, however, is seen in the trust and faith of our customers, many of whom have selected OLEDWorks as their exclusive OLED lighting supplier and/or their OLED lighting strategic partner. It is our commitment to quality that results in our world leading, high-performance products and the ability to meet the demands of new original equipment manufacturers (OEMs) adopting OLEDWorks technology solutions.
In the span of a few years, OLEDWorks has earned the reputation as the leading global manufacturer of premium OLED lighting technology. And as we look to the future, we have our sights set on even greater innovation, more technology offerings, and further expansion. Our ongoing success has only been possible through the skill of our people, the unrivaled performance of our products, and our technically superb production.
Interested in learning more about OLED lighting? Read our Frequently Asked Questions and see what people in the industry want to know about the benefits of this technology and what sets it apart from other options.