Each week, a member of our team provides insight on how their jobs have shifted due to the pandemic, how they stay focused and productive while working from home, and how they are staying centered. Take a look at the responses from our team and try some of their ideas yourself!
Tim Spencer
Director of Mechanical Systems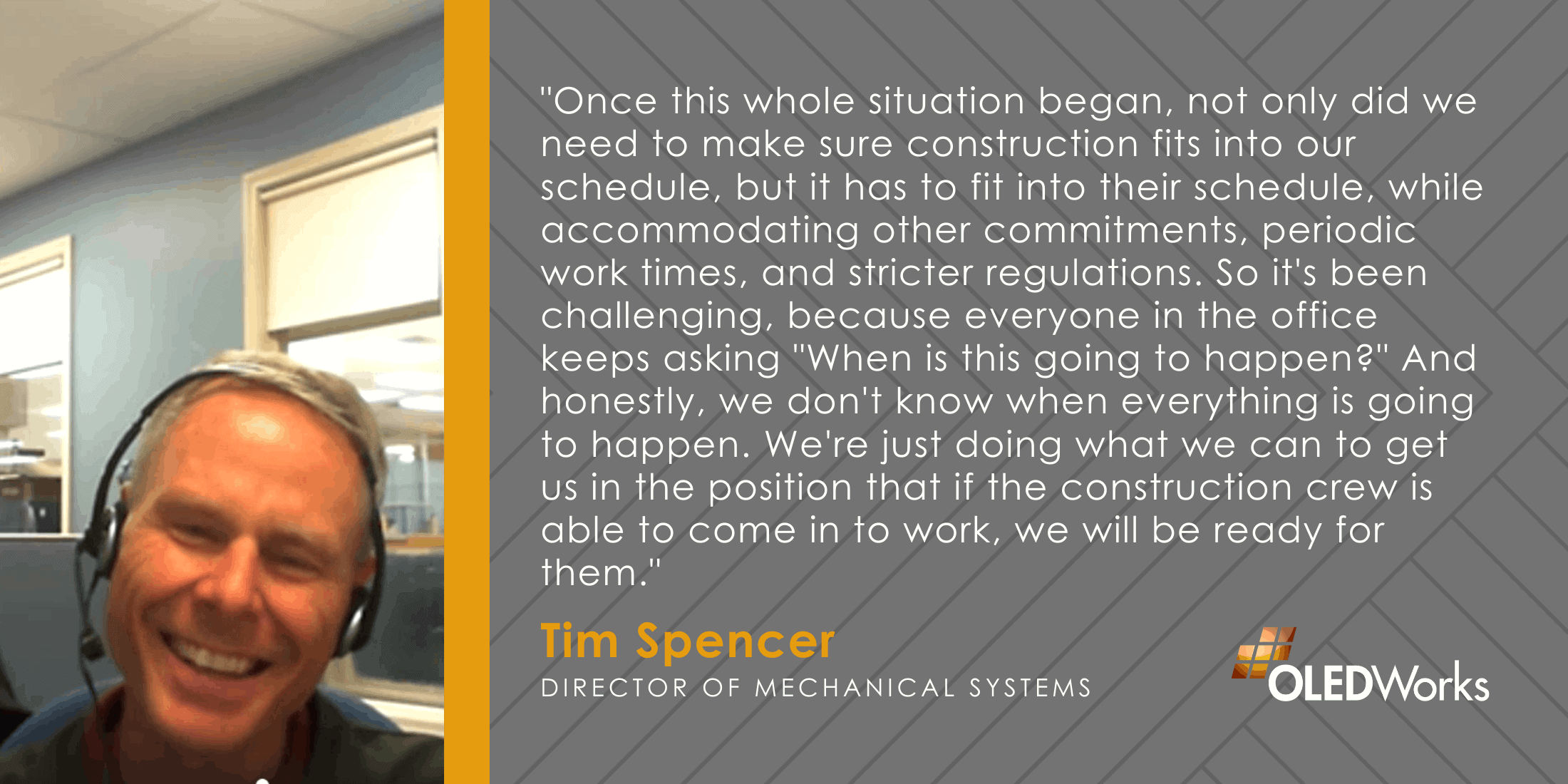 So you're a member of the team that splits their time between home and the office. Could you walk us through what your schedule is typically like?
I usually spend an hour or two each day, at least, working from home. You know, going through emails, doing what I can. Sometimes I do a lot more than that, but sometimes less. If I have to do CAD work, or testing work, then I have to come into the office. I can technically use CAD at home, but my laptop can't handle the big application, so it's tedious and unproductive. So I usually spend about 60-70% of my time in the office, 30-40% at home.
Right before everyone began working from home, you were about to launch a major office renovation. How has that been impacted, and how have you had to adjust for such a large-scale project?
Well, we were having a difficult time getting our folks and the construction folks on the same page. Once this whole situation began, not only did we need to make sure construction fits into our schedule, but it has to fit into their schedule, while accommodating other commitments, periodic work times, and stricter regulations. So it's been challenging, because everyone in the office keeps asking "When is this going to happen?" And honestly, we don't know when everything is going to happen. We're just doing what we can to get us in the position that if the construction crew is able to come in to work, we will be ready for them.
What's something you do outside of work for fun?
I love doing the carpentry at the Genesee Country Village and Museum. I get out there, tear the buildings apart, and put them back together. And honestly, the museum's not open now, which is even better! I get the entire place to myself, so I get to focus on fixing them up. It's very therapeutic. I feel like I'm actually getting things done, because I see it how it starts, and then a few days or weeks later I see it completed, and think, "Wow, look at how much I've accomplished".
Mary Ellen Bonisteel
Executive Assistant to Dave DeJoy, CEO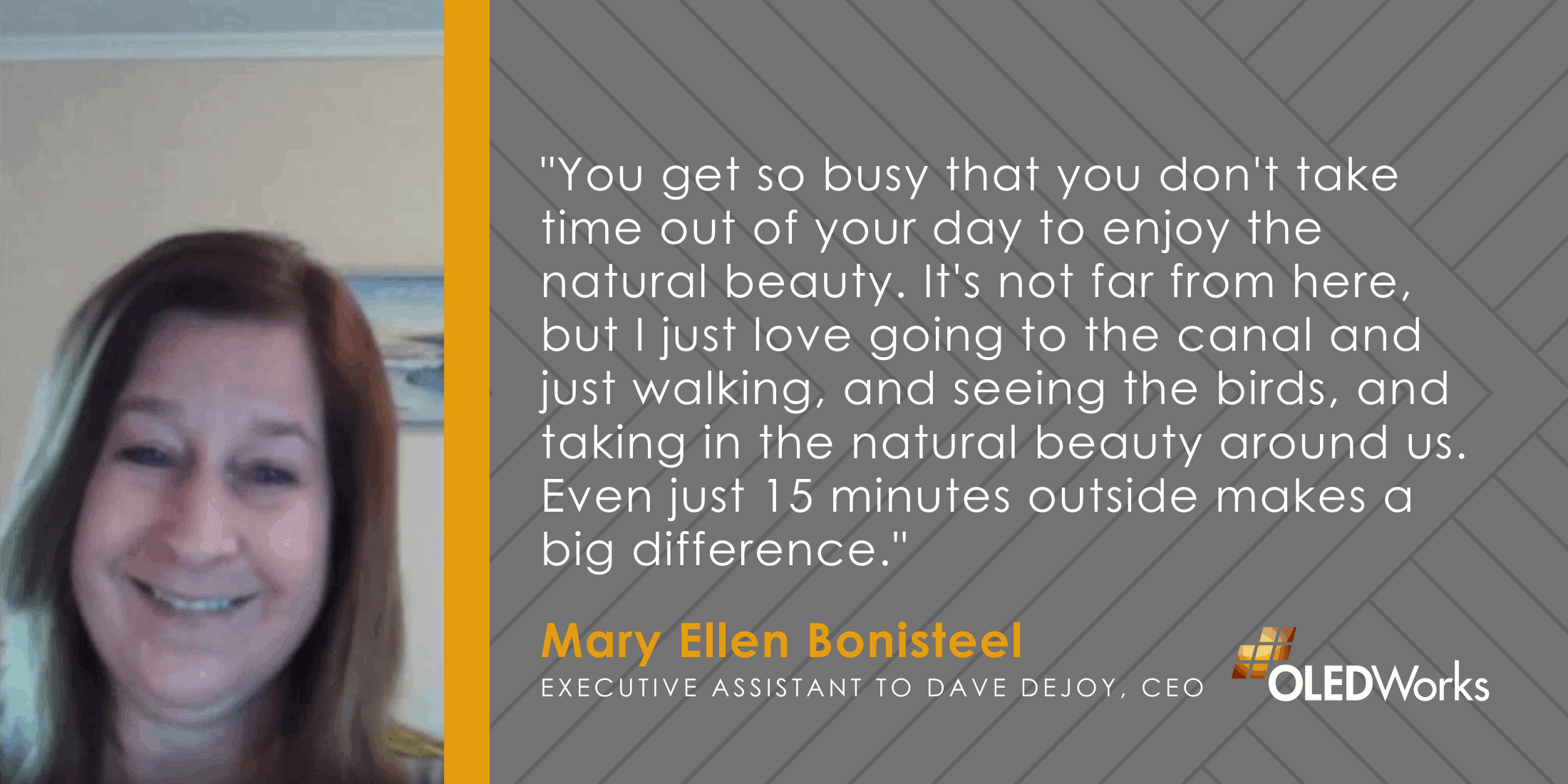 What has been different about your workday while working from home?
I'm actually more productive at home, because there's no visitors that I typically would jump up and greet or deliveries I handle, so for me there's a lot less distractions in terms of the office tasks that I normally do. I've worked on some major projects because without distractions I could devote 100% to them. And I'm trying to stay on the same schedule. When I would normally take a little coffee break in the office, that's when I'll say "oh, I have to have my coffee" and stay on the same track.
I really miss the people though, so that's kind of double-edged. And when I'm here, I'm so focused that sometimes I forget to get up. So then I have to remind myself to get up and stretch — and to get more coffee! So that's one thing, is I'll sit here for an hour and a half, two hours without moving, and I need to get up and move a little more.
What is something you do outside of work to relax?
Living in Fairport, we have beautiful canal paths. And you get so busy that you don't take time out of your day to enjoy the natural beauty. It's not far from here, but I just love going to the canal and just walking, and seeing the birds, and taking in the natural beauty around us. Even just 15 minutes outside makes a big difference.
Bernadette Thompson
Senior Director of Finance and Administration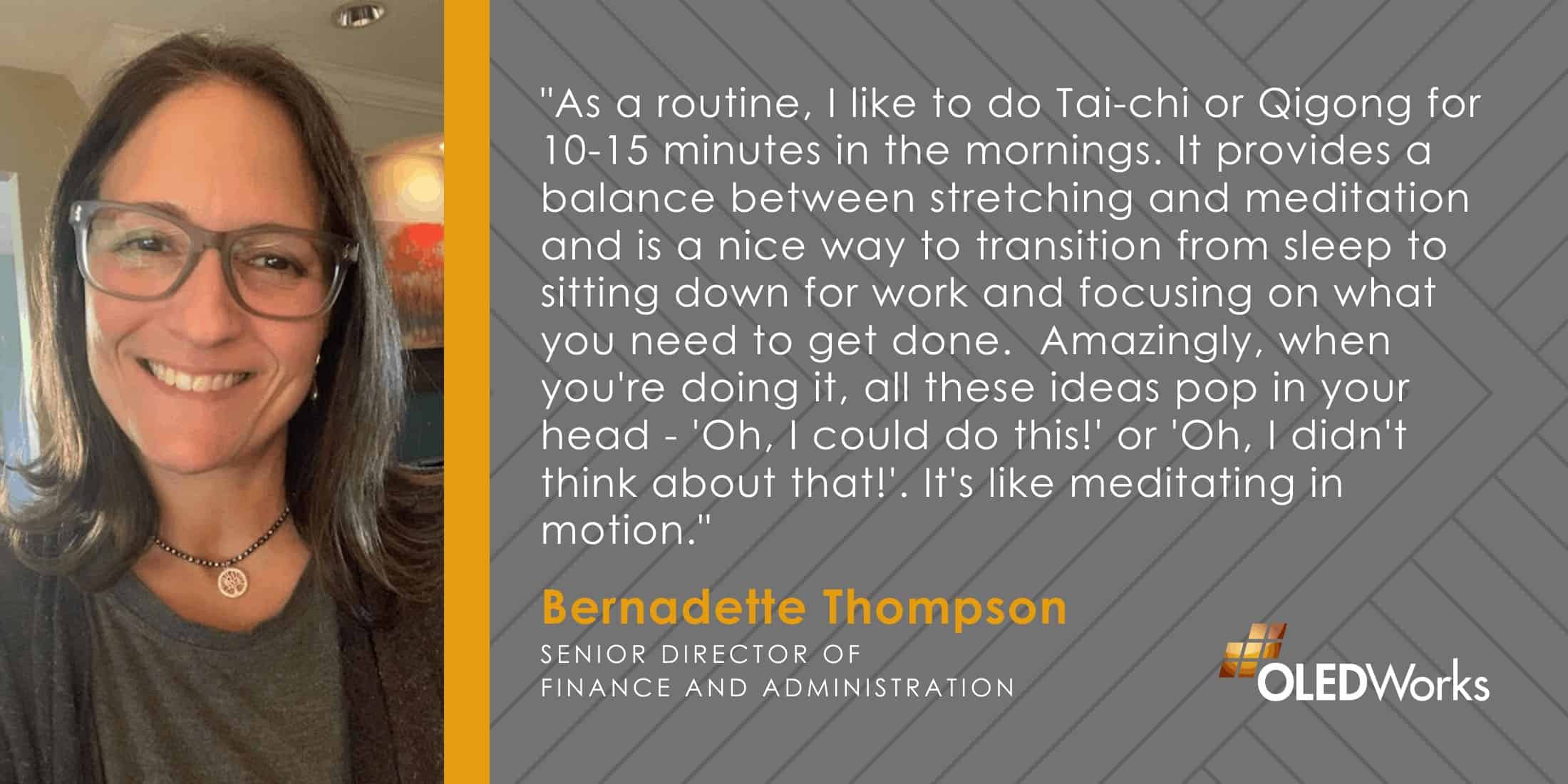 What has been a challenge for you in working from home, and how did you overcome or work around that?
The biggest challenge for me is I'm susceptible to sitting at my desk and not moving, which allows work and personal space to blend so much that there's no separation. My kids are grown, so they're not usually home when I'm working. Some days I can sit down here, and not get up for 14 hours except to get drinks or snacks. That doesn't feel very good for your health.
So one of the things I do throughout the days when I can, is set a timer for one minute, and do jump-squats, or mountain climbers, or burpees. That's really helpful because it rejuvenates me, gives me some new motivation and peps me up so I can think clearer.
What's something unrelated to work that centers or relaxes you?
As a routine, I like to do Tai-chi or Qigong for 10-15 minutes in the mornings. It provides a balance between stretching and meditation and is a nice way to transition from sleep to sitting down for work and focusing on what you need to get done. Amazingly, when you're doing it, all these ideas pop in your head – "Oh, I could do this!" or "Oh, I didn't think about that!" It's like meditating in motion. And if I don't have time to do that, then I'll sit still with a breathing app for a few minutes. I do those things pretty regularly, and then on the weekends I go to my off-grid cabin to work in the woods and relax.
Heather Bigger
Human Resources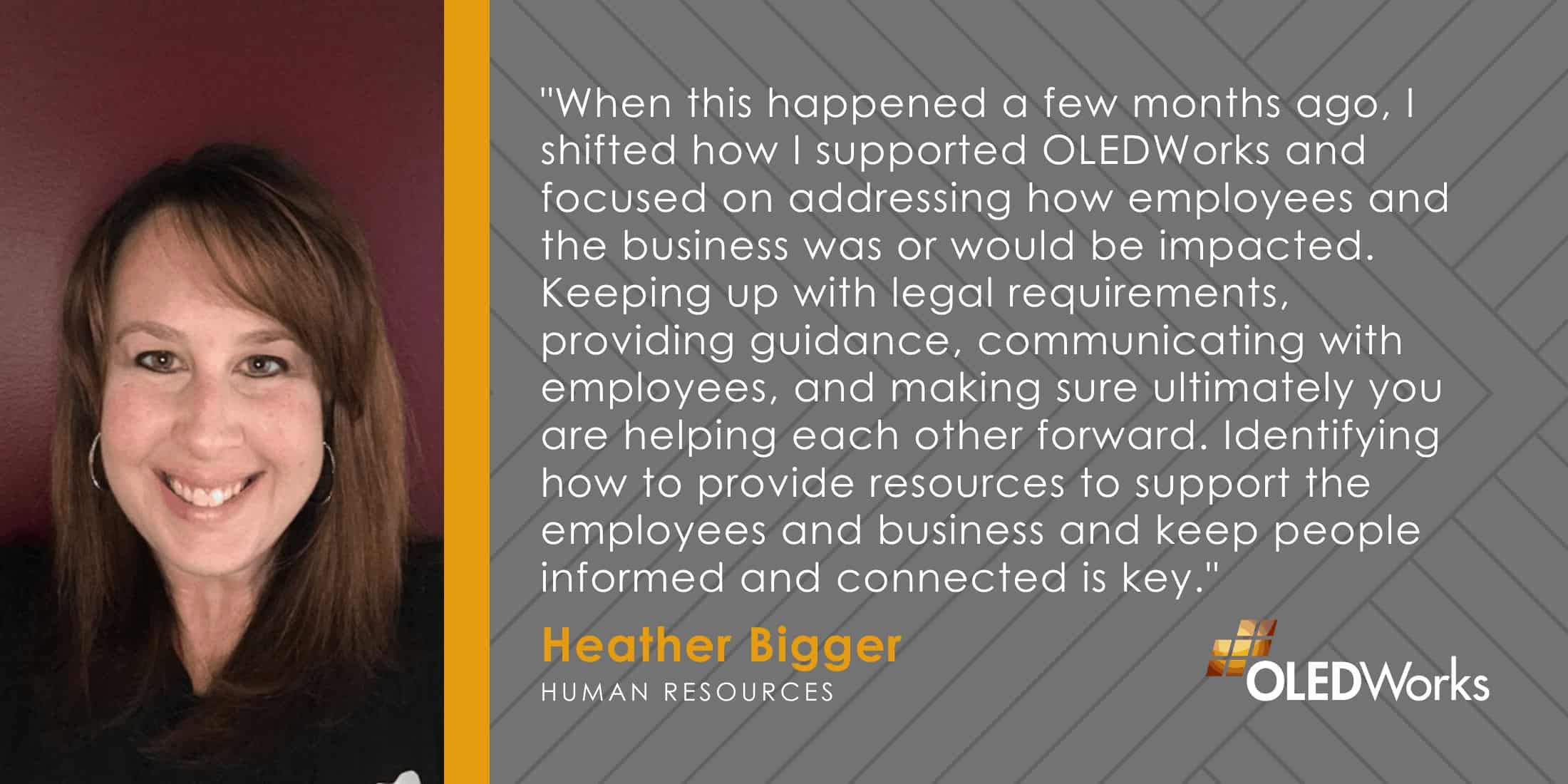 How have those in HR had to adapt to such an unprecedented time?
HR does all the things people historically think of, like payroll, benefits, kind of that support. But it's also evolved to, how do you partner with the business and what the business needs? That's sort of in general, and then something like this happens. Nobody's ever encountered this before, it's new to us, and it's a global issue. When this happened a few months ago, I shifted how I supported OLEDWorks and focused on addressing how employees and the business was or would be impacted. Keeping up with legal requirements, providing guidance, communicating with employees, and making sure ultimately you are helping each other forward. Identifying how to provide resources to support the employees and business and keep people informed and connected is key.
How do you stay focused while working from home?
I'll be honest, I'm not perfect at that, for sure. I think it's hard; it doesn't matter if you're somebody who usually works remotely or someone who always works in the office, everybody has had to adjust to how this is different. But for me, I try and keep the same schedule as before I worked remotely. I'm very scheduled, so I plan out my week as much ahead of time as I can, even if it has to be flexed a bit. And I like to check things off, even if it seems insignificant, I need to check it off to help me stay motivated. And lastly, being honest with myself about how I think I'm better in the mornings, so I make sure to do as much as I can in that time.
And what do you do outside of work for fun, or to relax and stay centered?
Well I would've said, before, that my kids are everything, so I would dive into all of their activities. But in this moment more-so, I've been doing puzzles. I do love puzzles, which I think is a common thing for people because it's something easy to do at home. A glass of wine, and a puzzle, and I could sit there for hours.
Mike Minor
Business Development Manager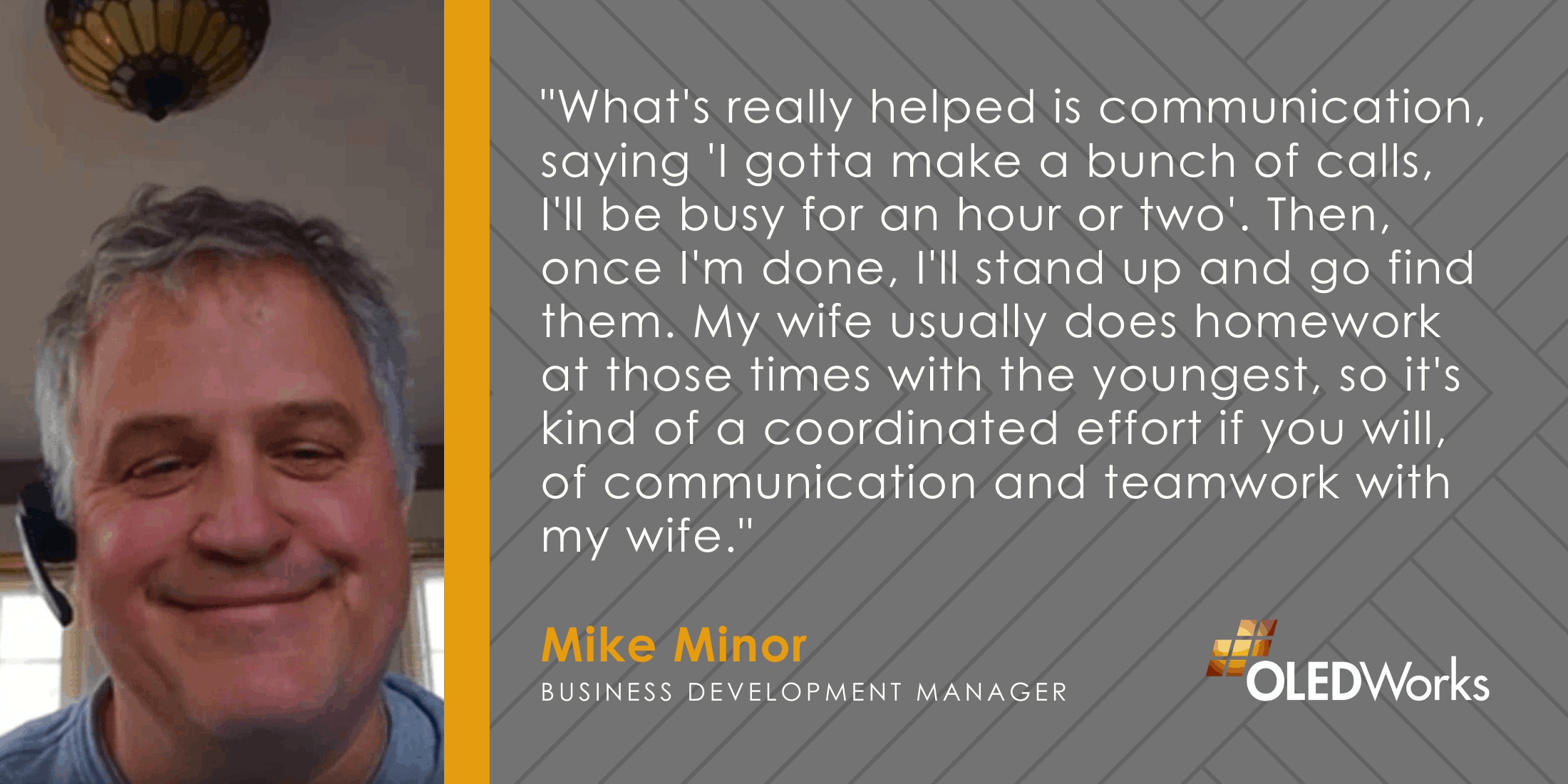 How has your job been affected by the pandemic?
Well I usually work from home, so that isn't so different. The big difference is having the kids home with me while I'm working. They're 18, 16, and 12. The 18 year old and the 16 year old are very independent, but the 12 year old still likes a lot of attention – and you can't just shut him out! So that's been the hard part, having the kids around and trying to be everything to everybody.
So when you are working from home, and you have to balance time with your kids, what is something you do to stay focused and on track?
A lot of communication with them. So, if I have an online presentation, or I'm gonna have a conversation with you, or I'm on a call… what's really helped is communication, saying "I gotta make a bunch of calls, I'll be busy for an hour or two". Then once I'm done I'll stand up and go find them. My wife usually does homework at those times with the youngest, so it's kind of a coordinated effort if you will, of communication and teamwork with my wife.
What's something you do outside of work to keep your mind off of things and stay relaxed?
My youngest really got the golf bug this winter, he's my athlete of the bunch. And so we golf maybe 3 or 4 times a week. The golf courses are open – there's no carts or anything like that. We'll head out 5:30 or 6:00, play 4, 5, 6, 9 holes, whatever we can. That's been really good.
Suzannah Hamer
Process Chemist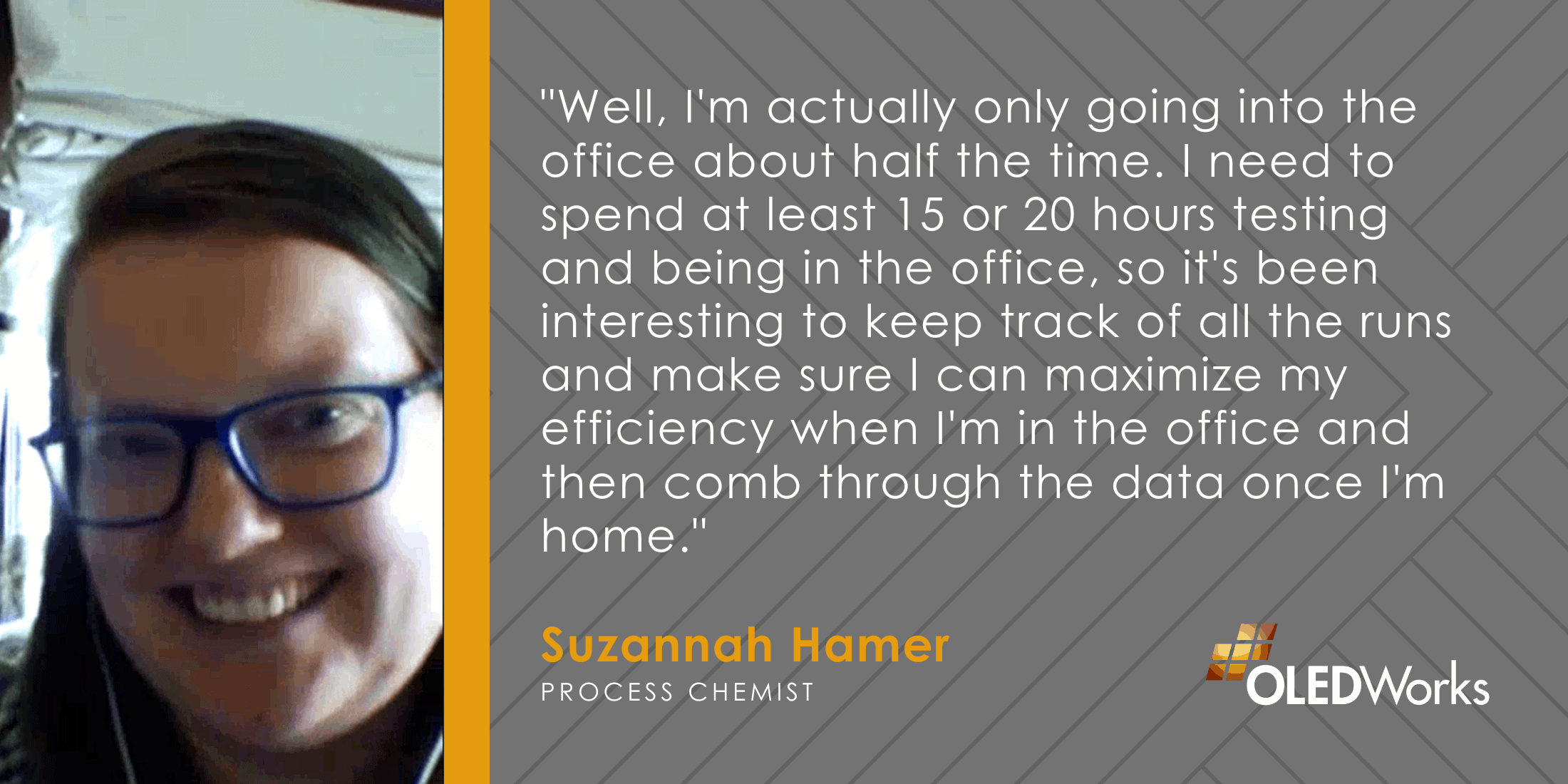 As someone who has to go into the office for testing and manufacturing purposes, how has your job been affected by COVID?
Well, I'm actually only going into the office about half the time. I need to spend at least 15 or 20 hours testing and being in the office, so it's been interesting to keep track of all the runs and make sure I can maximize my efficiency when I'm in the office and then comb through the data once I'm home.
And have the safety protocols forced you to rearrange your thought processes going into the office, or is it mostly business as usual?
In the office it's mostly the same as usual. I mean, I've certainly been going in later in the day so that I'm not there at the same time as the morning people are there. And making sure that if I need someone around, if I'm going into the clean room and I need someone to hand something in to me, I make sure to do it earlier in the day. But the protocols haven't really impacted the work itself.
When you are at home, how do you stay focused?
I have actually been having a really hard time with this! I had worked really hard to maintain a work-life balance, to keep everything at work and bring nothing home. I had gotten rid of my personal computer, I don't have a desk at home, and I've tried hard in the past to keep those things separate, so it's been a bit of a challenge working from home.
But I have a large tea carafe that I have been timing my work off of. I try and concentrate, and then once I'm done with the whole carafe, it's like "ok, that's been about 40 minutes to an hour. I can take a short break and go make more tea". I use that as a timer to like, set things out into chunks so that I can feel like I'm accomplishing something in those little chunks of time. So that's been helping.
And what's something you do outside of work to stay positive and centered?
I'm trying to go on walks and make it out of the house at least once a day – not doing so well on that! But it's a goal. And my friends and I try to set up a kind of weekly dance each Saturday. So we choose a different person to make a playlist each week, and stuff like that. So trying to just make sure I have a balance on the other side of the scale.
John Rubens
VP of Customer Success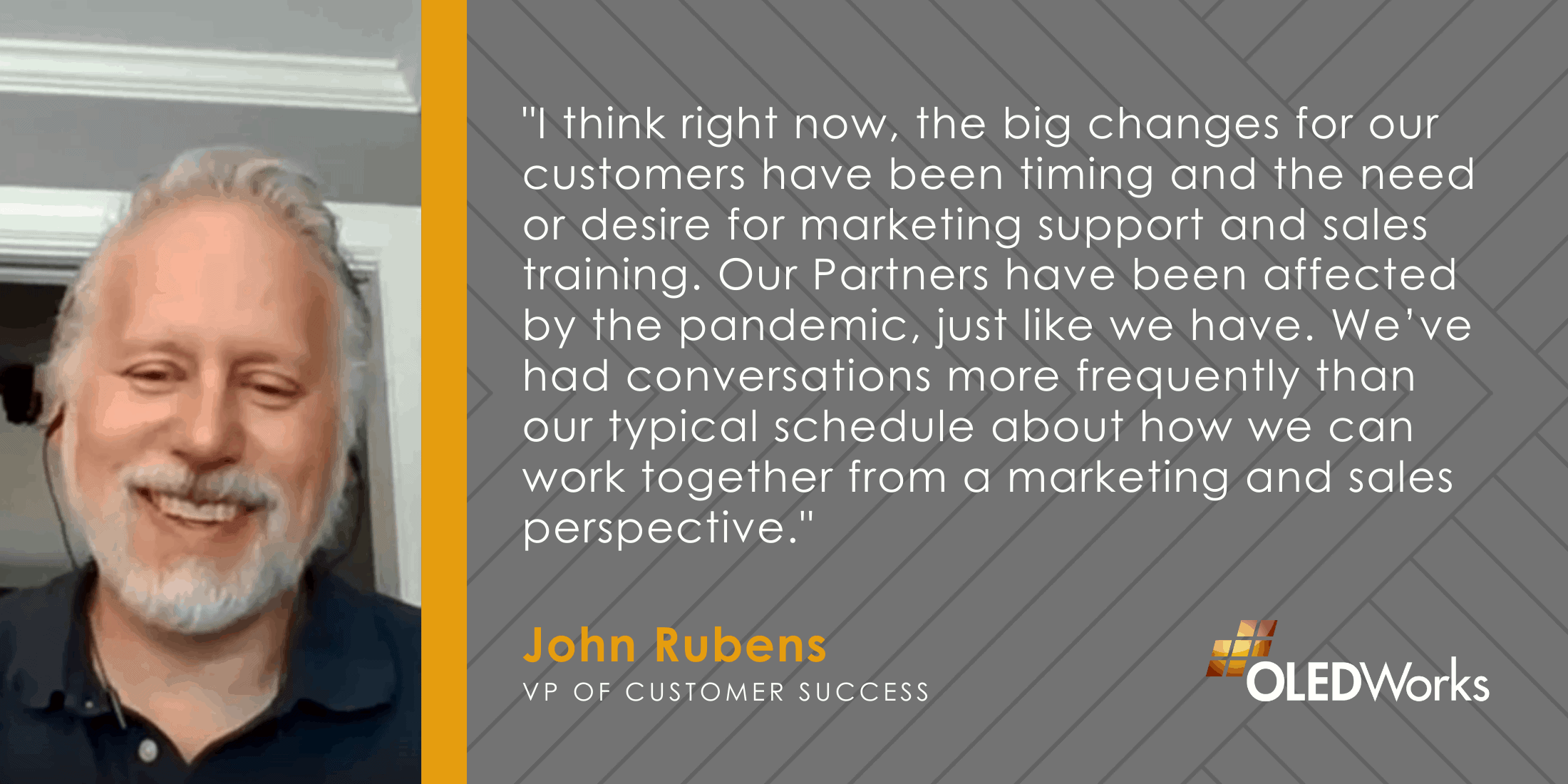 How has the pandemic affected the relationship with our customers? Have demands changed?
I think right now, the big changes for our customers have been timing and the need or desire for marketing support and sales training. Our Partners have been affected by the pandemic, just like we have. We've had conversations more frequently than our typical schedule about how we can work together from a marketing and sales perspective.
You know, everything's going in waves. So we have a lot of customers in China who were shut down early on, and so they couldn't take orders, or postponed orders. And then as things progressed through different countries, they began to shut down. So there's been a lot of, how do we support customers and get them what they need, whether that's from the US or Germany?
If the country is overseas, we typically ship from Aachen, because they have been working, which is good. So China has come back online and most of our customers have started saying yeah, we want our stock and we want to receive that now. So what's important for us is to be flexible in how we meet their requirements. You know, obviously we'd like to get orders in sooner and deliver sooner, but that's not the norm right now.
And what's something you do outside of work to stay busy and centered?
I actually live next door to Powder Mills Park so I usually go into the park and go hiking. Later this year, COVID willing, I'm supposed to be going on a 2 week hiking trip with my son in New Mexico, so I'm trying to prep for that. I've been hiking with my backpack in the park.
Tony Pleten
Director of Fab/OLED Production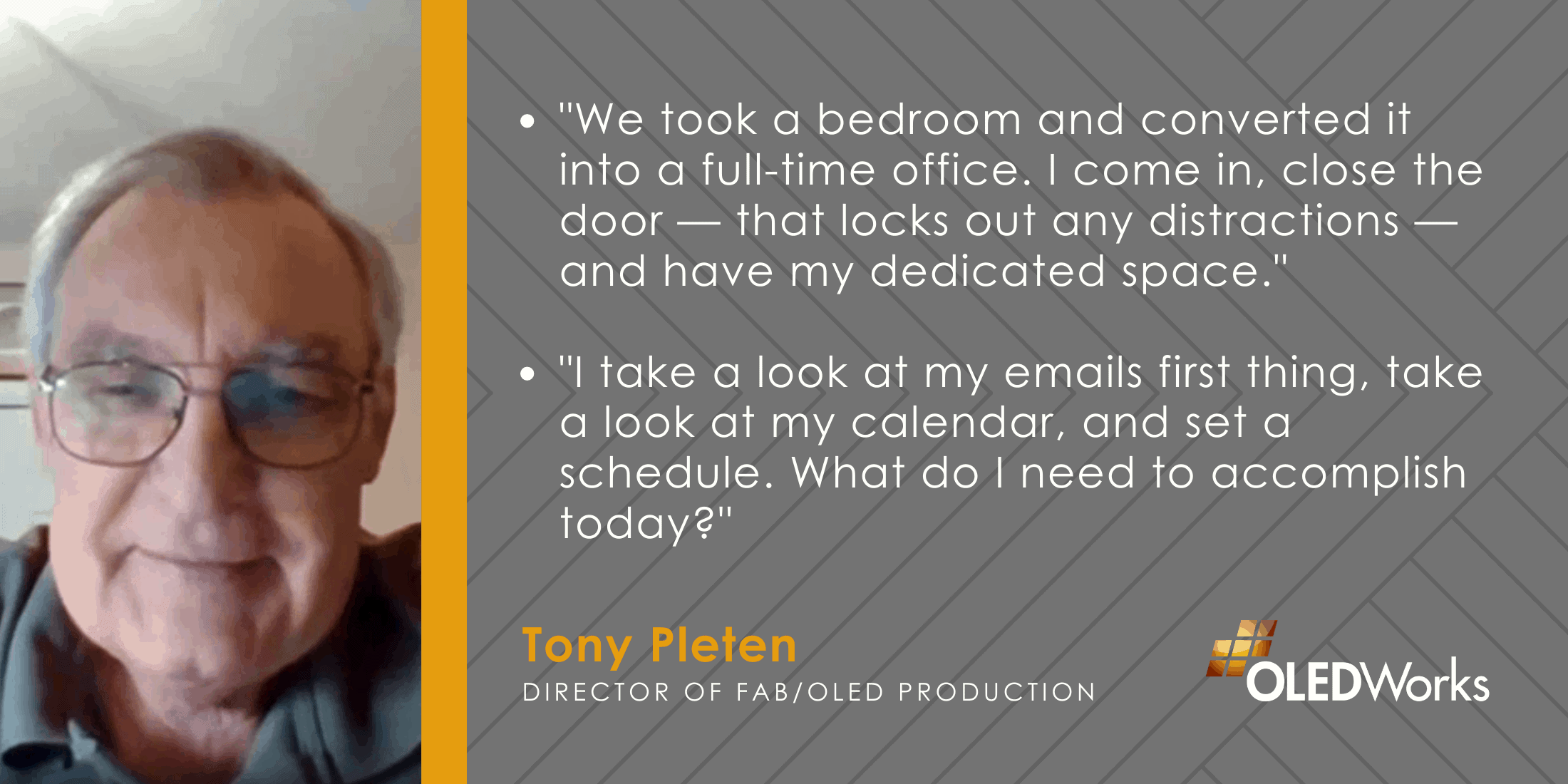 I have a dedicated work space. I have an office that we set up years ago when I left Kodak and was working on my own. We took a bedroom and converted it into a full-time office. I come in, close the door — that locks out any distractions — and have my dedicated space.
I take a look at my emails first thing, take a look at my calendar, and set a schedule. Who am I meeting with? What are the meetings about? What do I need to accomplish today?
I don't get up as early as I used to, I don't need to do that anymore, so I get to sleep in a little! But I eat lunch at about the same time every day, and I did at work as well, so I'm trying to keep to that schedule. The only difference is I take time to do some power walking on the treadmill. At work I tended to go in and out of the fab and walked around a little more than I do here, so I need to make sure I keep getting exercise.
I communicate with Xiao [Manager, Quality and Fab/OLED Production] a lot more, he's my eyes on the site. He and I talk, or email, or text, whatever. I keep trying to check with him, make sure things are on schedule with what we laid out at the beginning of the week. And I want to make sure that number one, people are safe and healthy. He's the one who has the pulse on what's going on with people, so I make sure to communicate with him a lot.
Nick Swancott
Marketing Specialist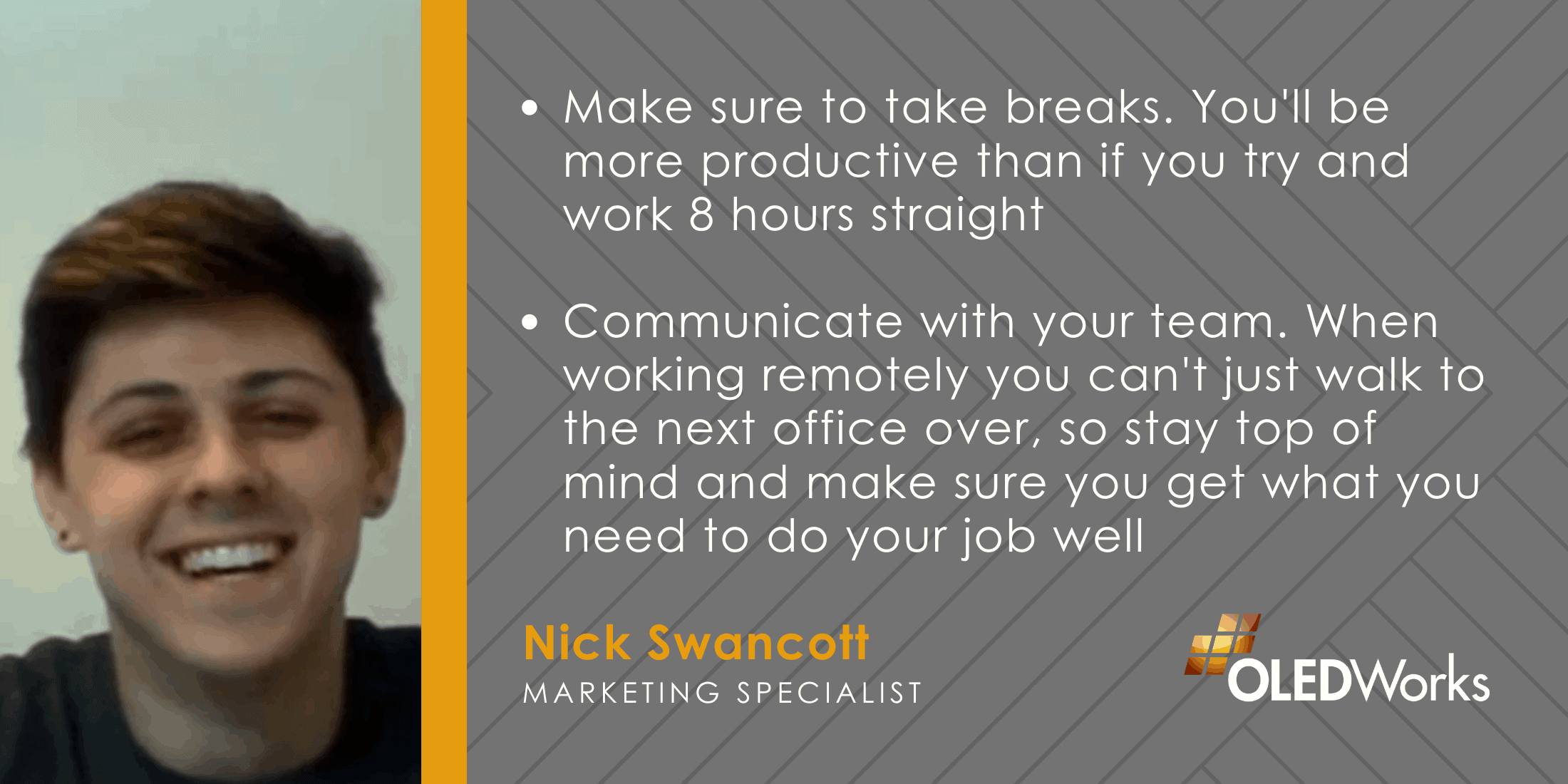 Set aside specific time to work and time to take a break. So saying to yourself, 'I'm gonna stay focused for 1 hour. No distractions, no checking my phone'. And then once that time is up you reward yourself with 15 minutes playing on your phone, or taking a short walk, or tackling the dishes. And then you go back to work and do the same thing – one hour of work, take a small break. I find that when I do that, I am focused the whole time, whereas if I try and force myself to work eight hours in a row, I'm distracted and I end up getting less done than if I had taken the time to reset and refresh.
Another thing is, make sure you're constantly communicating with your team. When you're in the office, it's really easy to pop into the next office or walk a few cubicles down. But when you are all separated and working remotely, it's even more important so that you don't let any project details slip. Also, when you're not in sight, your projects probably aren't top of mind to a teammate or a supervisor. So if you need approval or assistance, make sure that you reach out and get what you need to continue to do your job well.
Jeff Spindler
Director of Product Commercialization

It's important to have a designated quiet space. Of course it's difficult if young ones are running around and you can't escape them. But if you have an office, that's great. If not, you know it's quiet corner of a dining room or some room where there's not a lot of traffic. It's good to be able to have a quiet space so you can sort of focus on your work with minimal distractions. I think it's impossible for all of us to have no distractions, 'cause there is usually more than one person at home. Maybe that's not the case for everybody, but family members should respect your quiet time as much as possible.
Stay on your routine as much as possible. So it's tempting to you know, sleep and then walk around in your pajamas all day and not shave or not wash but you know, like Dave said last week, if you can, keep on a somewhat of a routine. Set your alarm, get up fairly early like you would if you were going into work. Make it sort of a work day.
Try to have goals for the day. 10 things you need to accomplish, each day and for each week, basically. Try to cross those off your list. You can feel accomplished then.
Dave DeJoy
CEO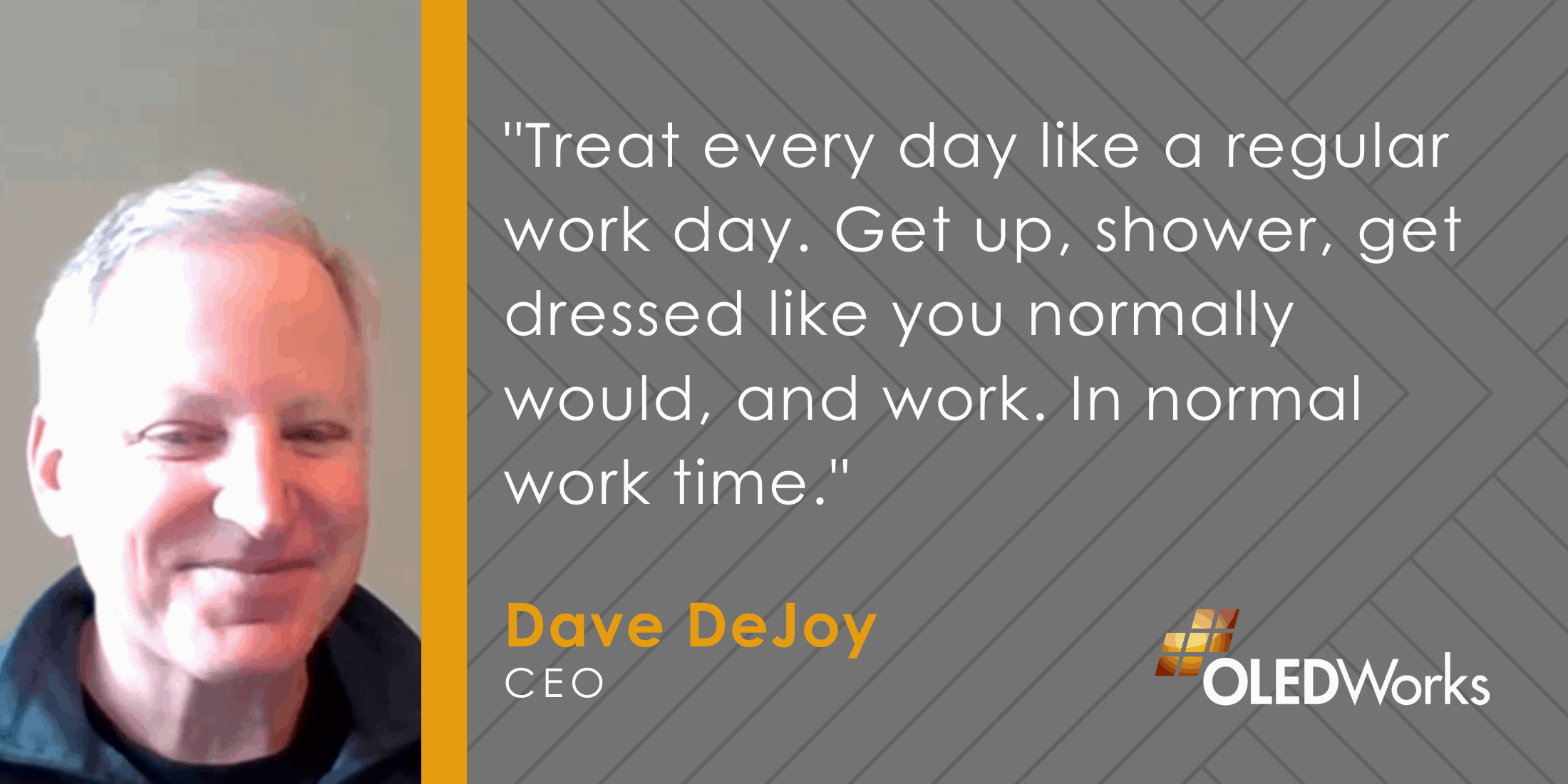 Treat every day like a regular work day. Get up, shower, get dressed like you normally would, and work. In normal work time. Take breaks, treat it like a normal day. Have lunch, go for a walk, get some exercise, and then decompress afterwards. It's really easy to then get drawn back in. At least it is for me. Keep working on attention all the time, so treat it like a normal work day. 'Head home' at the end of the day.