Dezeen, an architecture and design magazine, is holding a panel for Design Week alongside Rich Brilliant Willing. Amongst the panelists our Director of Business Development, Giana M. Phelan, discussed OLED lighting panels in design concepts.  Alongside Giana were Theo Richardson, co founder of Rich Brilliant Willing, Carissa Mylin, Associate at Sera Architects in Portland, OR, Charlie Dumais, Principal at Brian Orter Lighting Design and Pantea Tehrani, Senior Designer at Bjarke Ingel Group Architects. The panel took place on May 16th, from 6 – 7 PM EST, 50 Greene Street in NYC.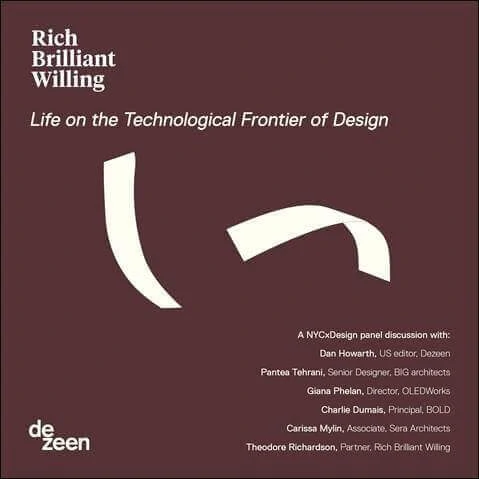 Panel topic:
Life on the Technological Frontier of Design
Location:  Rich Brilliant Willing Showroom, 50 Greene Street NYC, NY
RBW integrates the newest Brite 3 BendOLED lighting panel into their design where they have combined our OLED lighting panels with thin strips of aluminium wrapped in 3D-knitted textiles. This piece is called Light Inflection. In the video below by Dezeen,  co-founder Theo Richardson discusses uses of OLED technology in lighting design. To learn more about Rich Brilliant Willing's concept designs with our OLED lighting panels, you may find it here. 
The showroom exhibit will be up for several weeks at 50 Greene Street in NYC.