You Matter. Light Matters. Visit us at LIGHTFAIR International 2018!
Come visit us at LIGHTFAIR International, one of the world's largest annual architectural and commercial lighting trade show and conference. This year, LIGHTFAIR will be at the McCormick Place in Chicago, IL from May 8 – 10, 2018. OLEDWorks will be at booth #4735.
See for yourself our newly introduced Brite 3 family, featuring the Round and BendOLED Curve. Experience our OLED Lumiblade panels – the healthy light. Because light matters. You matter.
Visit this page from May 8 – 10 for daily updates. Find more updates at our Twitter, Instagram and Facebook.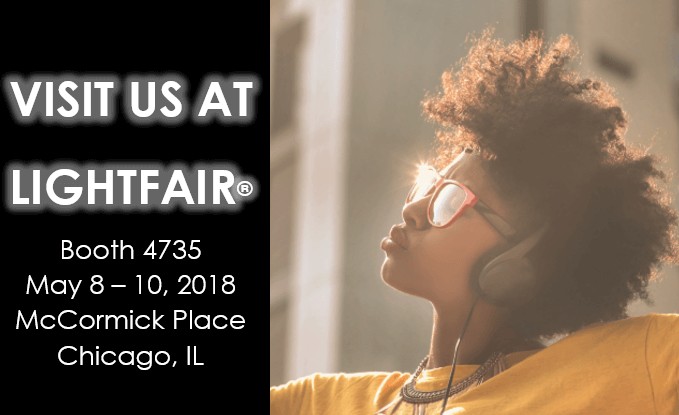 Day 3: The Final Day at LIGHTFAIR International 2018!
Even on the last day of LFI 2018, there is still a lot of interest in OLEDWorks where people are stopping by our Booth 4735. The hit was our BendOLED Curve where in our booth, many visitors got to experience a flexible OLED lighting panel first hand. We will be starting to accept orders and send out Brite 3 by Summer 2018.
Our Director of Business Development, Giana Phelan and Outside Sales and Business Development Representative, Mike Minor discuss OLED lighting with visitors.
Our National Accounts Manager, Mark McElroy representing OLEDWorks!
Day 1 and Day 2: Let Lightfair Begin!
A successful Day 1 at LIGHTFAIR starting off with having customers visit the booth early on the day. The crowd began to get bigger throughout the day. Overall, LIGHTFAIR at Booth 4735 became very busy, filled with interests on our Brite 3 series especially the BendOLED and our recently announced OLED Surface in collaboration with LEDSpecialists. You can find the official press release for the OLED Surface here.
Set Up
Setting up the booth and adding some final touches before the big day tomorrow! OLEDWorks was also announced as the Top 10 Must See Products at LIGHTFAIR International 2018 from the EdisonReport. You can find the full press release here at the EdisonReport. Get ready to see OLEDWorks and our must see Brite 3 series at Booth #4735! 
Our Prototype Manager, Jeff Jackson, making the finishing touches to our booth.